KITO LX Mini Lever Hoist - Feature Friday 10
Welcome back to Feature Friday, MacMor's deep dive into the various products we carry (or those you request to hear about). This week we're joined by resident rigging specialist Dominic Colasuonno to talk about the KITO LX Mini Lever Hoist.
Build
Crafted with a tough aluminum body and steel frame, the KITO LX is a lightweight and compact hoist built with precision placement in mind. Featuring an easy-to-use position toggle, switching between up, down and neutral is simple and allows users to release the load from the hook and reposition in just seconds. With KITO's patented spring-loaded freewheel mechanism, you can easily adjust the load-chain while being protected from accidental freewheeling (which can often lead to damages and injuries).
This brings us to one of our favorite components in the KITO LX's build: the Weston-style load break. This component is the key behind KITO's drop-load protection by automatically engaging the break once pressure is detected, preventing a load from dropping if the user accidentally puts the hoist back into freewheel mode.
These are just some of the features that make this compact lever hoist a must-have for precision lifting. The KITO LX's pocket-sized design ensures it can be taken on the go, stored in a toolbox, a lunchbox or almost anywhere you need it to be.
"Its compact design, precise lifting capabilities, and short handle means the LX can thrive in the tightest workspaces."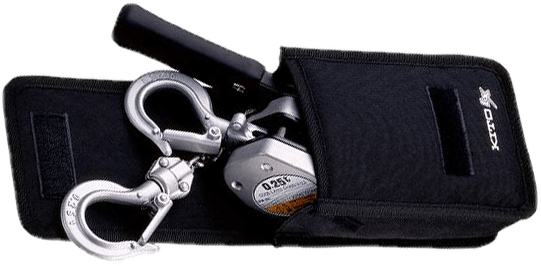 Capacity
With such a compact design, one could easily assume that this hoist is limited to small working loads. That could not be farther from the truth. With a standard lift of 5ft, the KITO LX can manage a working load of ¼ or ½ metric tonne.
There are 2 key features that allow such a compact hoist to lift this kind of weight with minimal effort. The first being the abrasion and corrosion-resistant load chain which is plated with Grade 100 nickel - making it extremely strong and durable. This coating also ensures the chain remains consistent in its performance through use and wear.
Secondly, the LX's forged heat-treated alloy self-locking steel hook gradually opens under excessive loads without fracturing to provide a visual indication that the hardware is overloaded. Together, these features work simultaneously to give the user peace of mind and to ensure the hoist is being used properly.
Application
Although the LX is more of a niche product, it is ideal for use in various applications such as construction sites, maintenance departments and automotive shops. With that said, its compact design, precise lifting capabilities, and short handle means the LX can thrive in the tightest workspaces.
Standards Met
ASME HST-3 Performance Standard
Contact Us
MacMor Industries is your one-stop-shop for all things rigging. We offer a host of rigging products and services with the expertise to develop creative solutions specific to your needs. Please do not hesitate to contact us if you have any questions.