Minimize Slips and Falls - DueNorth® Indoor/Outdoor Spikeless Ice Cleats
Welcome back to Feature Friday, MacMor's video and blog series where we discuss products and services related to industry, answer questions that are frequently asked by our customers and provide insight on the latest safety standards and best practices. This week, we are excited to introduce a new addition to our winter traction aid lineup – the DueNorth GripPro Spikeless Traction Aids.
The DueNorth® GripPros are perfect for workers who need reliable traction in a variety of environments, especially those who frequently work between indoor and outdoor environments, or are in and out of vehicles making deliveries. All things considered, this product offers ideal levels of both safety and convenience.
Design
Its spikeless design features 11 patented Hi-Viz orange chevrons that are strategically placed on the sole of the shoe, with eight at the front and three at the heel, providing enhanced grip and stability. The chevrons have a textured, gritty surface similar to sandpaper which helps to improve traction on a various surfaces. This gives the user assurance that traction will be maintained when transitioning from indoor to outdoor surfaces without needing to adjust or remove anything.

The sole treading is designed to channel water and other liquids away from the feet even in the snowiest conditions. The build-up of slush, ice, and snow on the sole of your footwear can greatly decrease traction and increase the risk of slips, trips, and falls. This can be especially dangerous in certain work environments such as construction sites or warehouses, where there is already a higher risk of injury.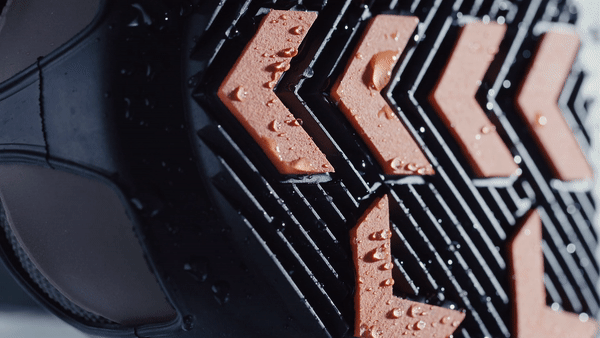 Sizing

Although spiked traction aids generally offer a greater level of grip on extremely icy surfaces due to how the studs or cleats bite into the ice, we can't deny that the DueNorth® GripPro Spikeless Traction Aids are more convenient for a wide range of industries, including warehousing, delivery, construction, and first responders. The GripPro's versatile design and durable construction make it a must-have for anyone who needs additional grip and stability on the job without the fuss of adjusting or removing cleats.
Contact Us
If you or your crew are in need of quality traction aids, don't hesitate to contact one of our safety experts – they will be happy to assist you in finding the perfect solution to meet your needs.
Like the Blog and Video? Please consider sharing it with your friends and your team.