Everything you need to know about CSA First Aid Kits – CSA Z1220-17: First aid kits for the workplace
As a safety-oriented company, we tend to set our sights on preventing and minimizing workplace accidents. However, accidents do happen, and it is important to be prepared by having proper first aid supplies in the right place and at the right time.
Prior to 2017, first aid was legislated provincially and would often vary by jurisdiction. This created a lot of confusion for companies that operate across Canada with interprovincial employees and became a contributing factor towards the push for a unified standard of first aid in Canada.
There are two CSA standards that address workplace first aid: CSA Z1220-17 "First aid kits for the workplace" and CSA Z1210-17 "First aid training for the workplace".
As of May 2023, the following provinces are on board with the new standard:
Manitoba
Saskatchewan
Quebec
New Brunswick
Newfoundland
Prince Edward Island
Northwest Territories
Nunavut
This blog post will focus on CSA Z1220-17 "First aid kits for the workplace" and explains how it accomplishes 4 main objectives:
1. General requirements for workplace first aid kits
Under CSA Z1220-17, first-aid kits are categorized into 3 sizes:
Personal: for isolated workers
Small: 2-25 workers per shift
Medium: 26-50 workers per shift
Large: 51-100 workers per shift
Instead of prioritizing the size of the first aid kit, this standard emphasizes having the appropriate quantity of components. For instance, in a large facility, relying solely on one large first aid kit in a central location may hinder accessibility. To address this, using 2 medium or 4 small first aid kits can offer a more accessible solution.
1 Large Kit = 2 Medium Kits = 4 Small Kits
CSA Z1220-17 also specifies that kits must be housed in material that will keep the content safe from the environment of the workplace i.e. moisture, chemicals, heat, etc. Upkeep of the container is required as well to ensure it remains in acceptable condition and is properly labelled.
2. Classification system for first aid kits
CSA Z1220-17 outlines 3 classes of first aid kits:
CSA Type 1 Personal First Aid Kits are for isolated workers. This includes fleet vehicle drivers, snow removal personnel, delivery drivers, etc.
CSA Type 2 Basic First Aid Kits are commonly found in low-risk workplaces such as offices, educational settings, and retail stores where the probability of severe injuries is relatively low but possible.
CSA Type 3 Intermediate First Aid Kits are specifically designed for workplaces with an elevated risk of injury and include all the necessary items mandated by the CSA standard for Type 2 kits. In addition, they contain supplementary components like metal splints and arterial tourniquets, which are crucial for treating more severe injuries.
These Type 3 Kits are commonly found in high-risk workplaces such as mining, oil & gas, forestry, machine shops, metal fabrication, labs, and other industrial construction applications. These industries often face a higher probability of severe injuries, making the Type 3 Kits essential for their first aid preparedness.
3. How to conduct a risk assessment and select appropriate first aid kits
As a safety expert, it is crucial to conduct a comprehensive workplace first aid risk assessment. This assessment should encompass the following key steps:
Identify the hazards in the workplace that could result in work-related injury or illness. This could include machinery, chemicals, or exposure to livestock.

Assess potential injury or illness that could occur in the workplace, the level of risk, and the potential outcomes.

Select appropriate first aid supplies and equipment that would be needed to respond effectively in case of an emergency.
The specific needs of each workplace will vary depending on the hazards present. The first aid requirements of the job site will also depend on factors such as proximity to emergency services, nature of the work, and hazards specific to the work environment.
Regular assessments of first aid kits and reviews of their supplies should be conducted to ensure that they are up-to-date and meet the changing needs of the workplace (this includes accommodation for new employees - emergency insulin or epinephrine).
4. How to properly maintain a CSA First Aid kit
The table below outlines the minimum requirements for workplace first aid kits based on the number of employees present on-site during any given shift.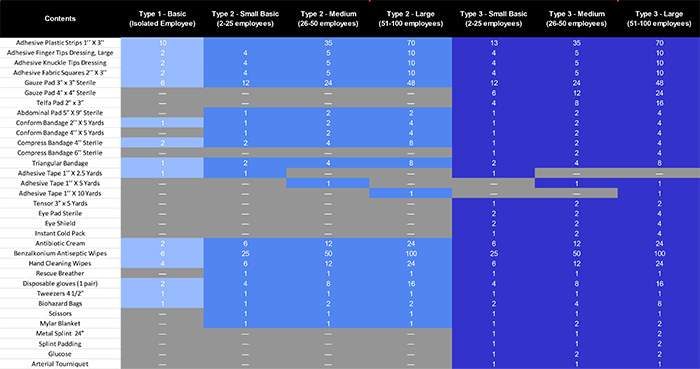 If you or your team require CSA First Aid Kits, don't hesitate to reach out to us. Our team of safety specialists and sales representatives is available to help you evaluate your first aid requirements and provide you with the necessary equipment to ensure your workplace is well-prepared for emergencies.
Like the Blog and Video? Please consider sharing it with your friends and your team.