Comparing Hands-free Lighting Solutions
Welcome back to Feature Friday! As we move into fall and the days get shorter, proper jobsite lighting becomes more and more important. This week, we're exploring hands-free lighting solutions. At MacMor, we have three LED headlamps to help you get the job done, each with their own intended purposes and features.
Energizer® Vision Headlight™
As our entry-level solution, the Energizer® Vision Headlight™ provides an affordable option for hands-free lighting. It offers two output modes: "High" offering 200 lumens for a maximum of 7 hours, and "Low" with 45 lumens for a up to 20 hours of runtime. One limitation of the Vision Headlight is its shorter beam distance of 50m. With that said, for certain applications, this will likely be considered a non-issue.
Although the price point would have you believe that this is a low-end product, the Vision Headlight™ is well built and offers great resistance from the elements. In fact, this headlamp is rated for 1-meter impact-resistance and features a shatterproof lens which is IPX4 water-resistant for extra assurance. The one-size-fits-all adjustable strap fits most heads comfortably (although a bit snug for some).
All around, this headlamp is a great option for basic usage where runtime and beam distance aren't crucial factors, and at this price point, you can't go wrong.
Streamlight HAZ-LO® Headlamp
Delivering 120 lumens with an impressive beam distance of 165 meters, the HAZ-LO headlamp offers superb illumination at significantly longer distances than its competition. Although the HAZ-LO® headlamp does have some great specs on paper, it should be noted that it only has a single output mode, limiting the applications it can be used in.
Another important spec to consider when evaluating the HAZ-LO's potential usage is its Class 1, Division 1 Intrinsically Safe certification. This classification indicates that the HAZ-LO® headlamp is not capable of releasing electrical and thermal energy, and is therefore safe to use in areas where hazardous gases, vapours or liquids may be present under normal operating conditions that have the potential to ignite or become flammable.
Overall, this headlamp is a strong performer that also meets the safety requirements of various high-risk jobsites including mining, oil & gas, and many others.
Milwaukee® Hard Hat Headlamp Kit
Lastly, we've got Milwaukee's Hard Hat Headlamp which distinguishes itself with its versatility. Featuring 5 different output settings (see details in table below), this headlamp is a great choice for most applications where intrinsic safety is not required. As you would expect from any entry in Milwaukee's lineup, this headlamp is built to withstand some impact and offers adequate resistance from the elements (IP54 rating), ensuring it can be used nearly anytime/anyplace.
Another benefit of this headlamp is its compatibility with the Milwaukee REDLITHIUM™ USB system. Users have the option to purchase additional USB batteries for quick-swapping while another battery charges. If you have already bought into this Milwaukee® battery system, this headlamp is probably worth adding to your collection.
In terms of comfort, this headlamp features a rubber pad that allows users to rest the light directly on their forehead or on a hard hat. It also comes with a handful of clips to secure the strap to a hard hat, and the band is lined with a rubber grip to keep the strap from slipping.
Overall, the Milwaukee® Hard Hat Headlamp offers a durable lighting solution with a build that feels tough while remaining comfortable. Although its price point might seem a bit prohibitive, there's definitely some great value here.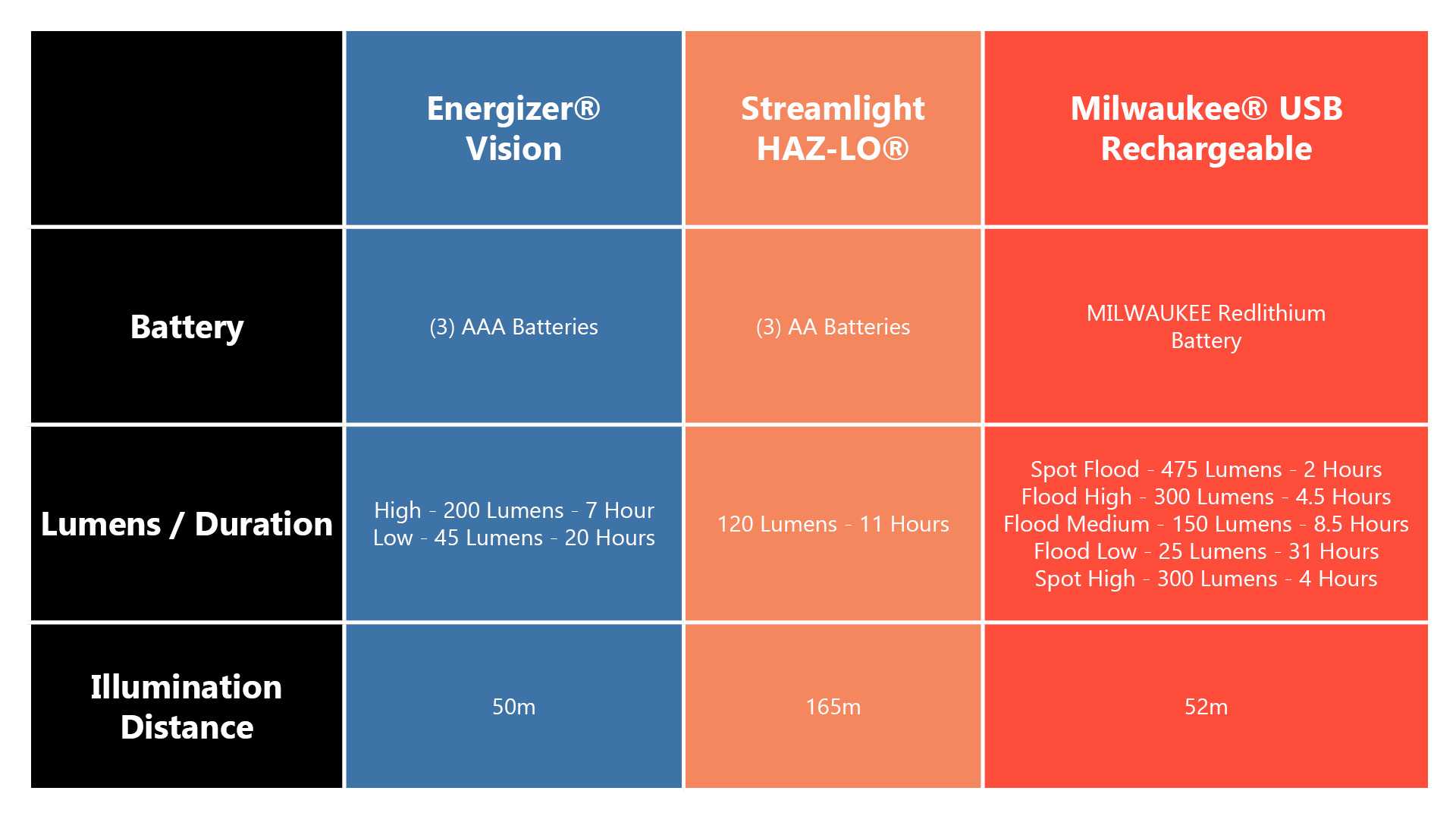 Contact Us
MacMor Industries offers a variety of lighting solutions to ensure visibility is not a concern on your jobsite. For more information, check out our full roster of Lighting Products or contact us directly - one of our safety specialists will be more than happy to help you with your lighting needs.
Like the Blog and Video? Please consider sharing it with your friends and your team.