Why You Should Consider Buying Hi-Vis Gloves
Welcome back to Feature Friday, the video and blog series where we discuss industry-relevant products, answer frequently asked questions, and examine various applicable safety standards.
This week, we're exploring a line of products that are becoming increasingly popular on job sites, particularly during the fall and winter season when decreasing amounts of daylight become a hazard. High-visibility hand protection is something most people overlook, especially when other High-Visibility Safety Apparel (HVSA) is in play.
While the implementation of HVSA is often mandated based on the work environment, high-visibility hand protection is typically a personal choice for a safety officer's program. With that said, we believe the use case for these products is valid for various tasks in different environments and feel it necessary to share some insight on why some of our customers are beginning to view 'visibility' as an important feature on some gloves.
Are Hi-Vis Gloves Worth It?
The short answer is yes. Bright coloured gloves, especially when paired with retroreflective accents, have a few benefits beyond simply expanding your visibility profile to the people around you:
1) In work environments with varying lighting conditions, hi-vis gloves offer a unique contrast, ensuring increased visibility of your hands.
2) A key reason for the increased demand for hi-vis gloves comes from expanding safety compliance guidelines. Safety officers and compliance teams are implementing hi-vis gloves as a way to easily detect on-site hand protection compliance from afar. The same reasoning explains why earplugs are typically made of bright coloured foam.
3) Work environments that utilize hand signalling such as highway construction, law enforcement, demolition work, and event parking can benefit from brightly coloured gloves and added retroreflection, ensuring the visibility of the worker's hands and their ability to communicate signals effectively.
TERRA® Hi-Vis Winter Performance Gloves
The focus of this week's Feature Friday video breaks down a new product in our Cool Comfort collection, the TERRA® Hi-Vis Winter Performance Gloves (see the video). These gloves offer an excellent solution for those who are looking to expand their safety program with hi-vis gloves.
Dubbed a mechanic-style glove, they feature padded knuckles and reinforced 1/8" Thermoplastic Rubber (TPR) pads* on each finger to protect from unexpected impact. Additional padding is utilized on the palms which provides extra reinforcement to high-impact areas that might get prematurely worn down in certain applications.
When it comes to comfort, the TERRA® Performance gloves have a few key features that we like. The protective padding on the back of the hand is designed to be flexible, promoting dexterity and preventing discomfort when you clench your fist. Additionally, the elastic wrist cuff ensures a snug fit which helps to keep the glove secured while keeping the elements out.
Since we're writing this feature in November, we'd be remiss if we didn't mention that these gloves also feature a C-100 THINSULATE™ lining, which is definitely a fan favourite for North American winters. While it offers superior insulation, THINSULATE's best feature is that it accomplishes this without being bulky, ensuring your hands feel warm but never sweaty.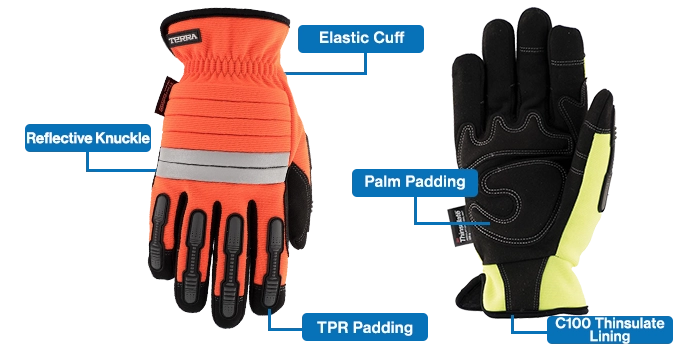 Contact Us
Although the feature of today's article was a winter mechanic glove, rest assured there are hi-vis options for all sorts of different gloves, including but not limited to cut protection gloves, driver-style gloves, and more. If you or your team need any kind of hi-vis gloves, do not hesitate to contact us; one of our safety specialists would be more than happy to assist you in getting the right gear for your crew.
Like the Blog and Video? Please consider sharing it with your friends and your team.