Understanding High Visibility Safety Apparel - Feature Friday
Welcome back to Feature Friday! This week we're exploring High Visibility Safety Apparel (HVSA). HVSA is a major component of workplace safety as it enhances the visibility of workers, and thus reduces workplace accidents. It also plays a critical role in conjunction with other PPE in the prevention of serious or fatal injuries.
Developing an understanding of complex work environments is the first step in addressing the needs of your workers. This is done is by performing a risk assessment.
High Visibility Safety Risk Assessment
A risk assessment attempts to identify key individuals on a site and the hazards they face. This includes, but is not limited to: employees, visitors, contractors, and the public. The next step is to evaluate how hazards could potentially affect the overall work environment. The final step is to determine the best way to eliminate the hazard or reduce the risk when it cannot be completely eliminated.
As a result, safety managers can determine if introducing new HVSA, implementing new policies and procedures, or exploring alternative workflow solutions is the best approach to addressing the hazard. For more information on the details of a Risk Assessment, check out the CCOHS Risk Assessment Breakdown.
High Visibility Safety Standard: CSA Z96-15
Hi-Vis apparel is a function of two parts:
Retroreflection - Most commonly known as the silver taping
Luminance - Background material, which is typically fluorescent yellow/green or fluorescent orange/red
When do I Need High-Visibility Safety Apparel?
It all starts with a risk assessment. Once this is done, safety managers can determine who needs HVSA, and at what level. Some considerations include:
The nature of the work being done
Exposure to heat or flames
Work environment (traffic flow/volume, site visibility, or whether work is indoor or outdoor)
Lighting conditions
Presence of heavy vehicle and machinery
Presence of traffic barriers and other traffic controls
Certain tasks that need to be identified
Classes of High-Visibility of Safety Apparel
Class 1 Safety Apparel
Is a basic harness with stripes/bands over the shoulder and encircling the waist. The retroreflective material can be Level 1, 2, and FR retroreflection.
Class 1 is required when:
Vehicles are moving slowly, less than 40 km/h
In environments considered low risk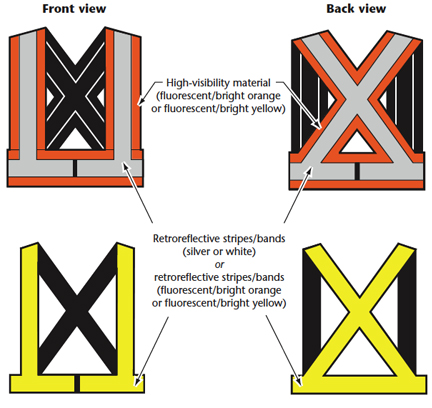 Class 2 Safety Apparel
Provides full coverage of luminous material across the upper torso - front, back, sides and over the shoulder. The retroreflective material can be Level 1, 2, and FR retroreflection which must be present across the waist, up and around shoulders, and across the backside.
Class 2 is required when:
Vehicles or equipment are moving between 40-80 km/h
When workers require greater visibility under inclement weather conditions or low light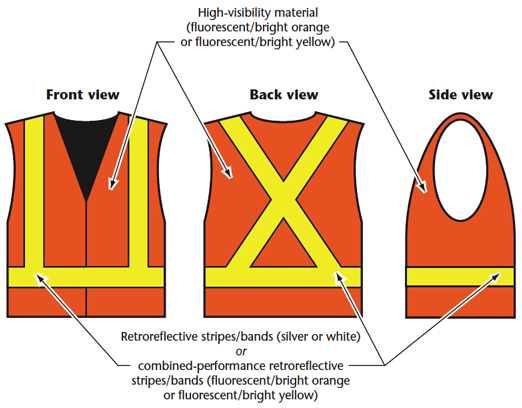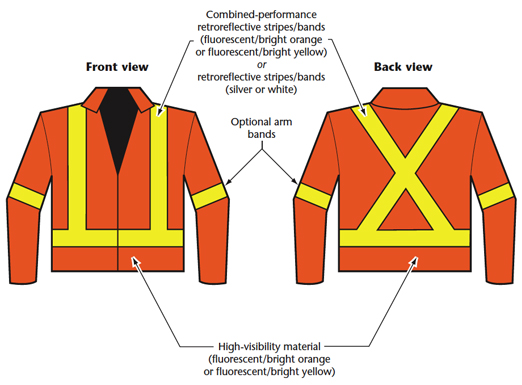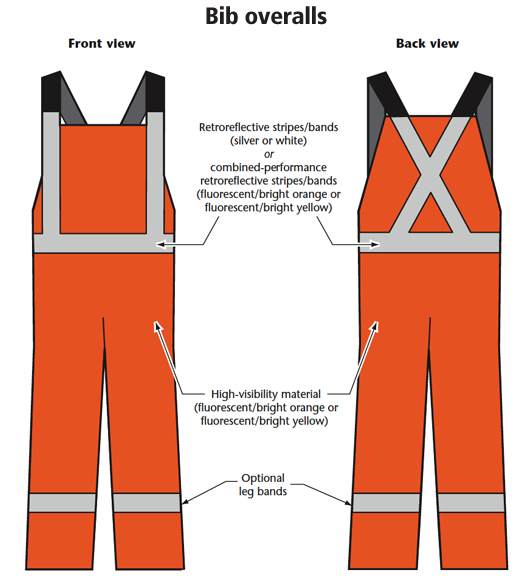 It is imporant to note that retroreflective banding on jacket arms and bib overall legs are only required if users need extra visibility, or if they require Class 3 HVSA as per the risk assessment.
Class 3 Safety Apparel
Provides Class 2 coverage with the addition of retroreflective bands encircling both arms and legs and must have Level 2 retroreflection striping.
Class 3 is required when:
Vehicle speeds exceeding 80 km/h
Work activities take place in low light or at nighttime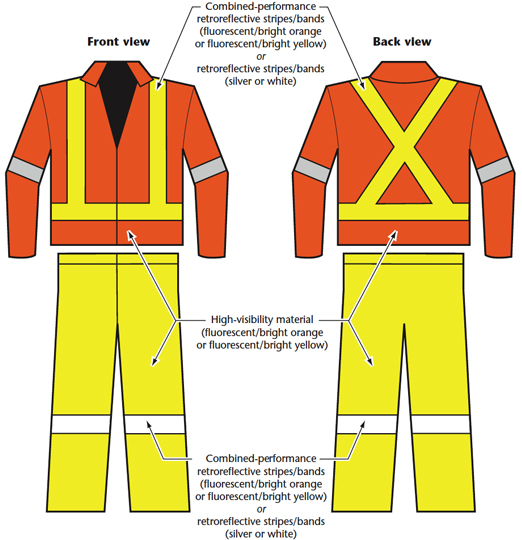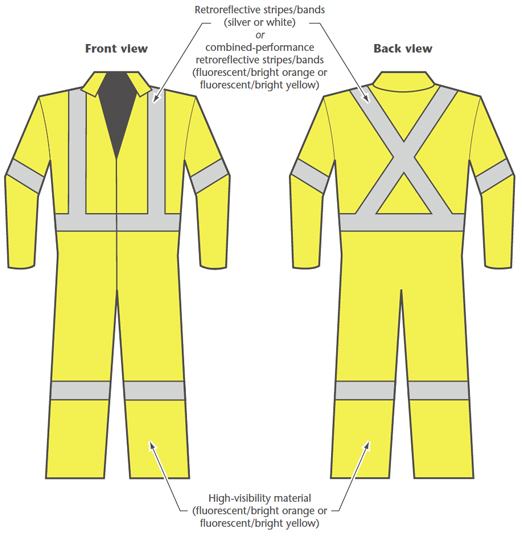 Levels of HVSA
Level 1

Slightly lower performance level of the striping, but still requires the background material to meet CSA/ANSI Standards. Retroreflective level is at 70% of the Level 2 requirement.

Level 2

Highest level of retroreflection and requires the background fabric to meet CSA/ANSI standards as well as the striping/bands to meet the highest coefficient level (the brightest level).

Level FR

Allows for flame-resistant garments with striping/bands where the total retroreflective level is at 20% of the Level 2 requirement (FR treated fabrics lose luster after treatment).
Corporate Branded Safety Equipment
MacMor Industries offers embroidery, silk-screening and embossment to personalize your protective equipment (PPE). We use reliable third-party embroidery and silk-screening shops to facilitate this service. Certain manufacturers offer custom branding services on select products at the time of purchase - please inquire with your MacMor sales rep or contact us for more information about this program.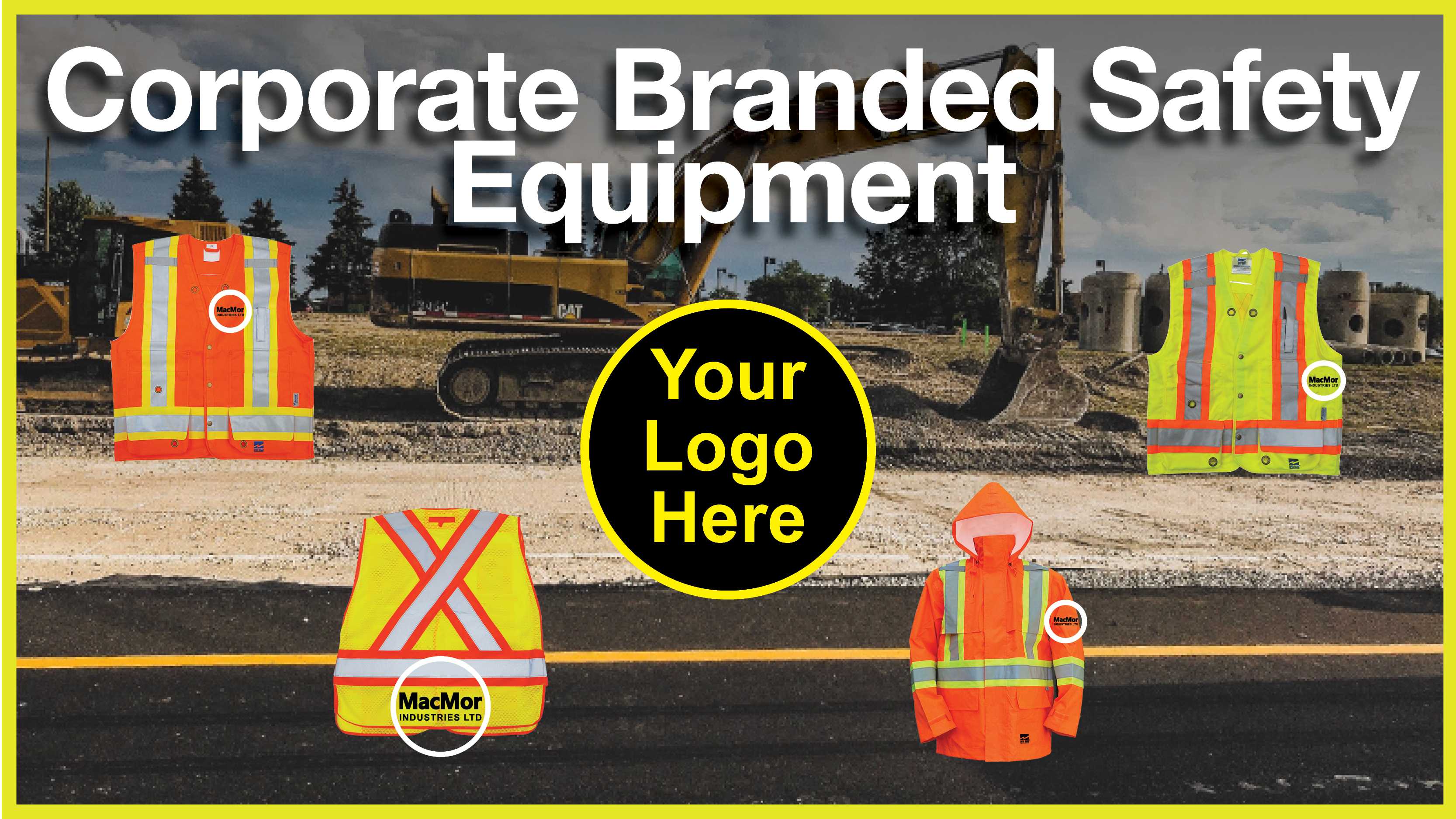 Contact Us
High Visibility Safety Apparel plays a critical role in workplace safety in various industries. It is essential to ensure that you and your crew are outfitted with the appropriate safety equipment, and MacMor is here to help. If you are unsure about your HSVA or PPE needs, please do not hesitate to contact us for support.
Additional Resource(s):
Like the Blog and Video? Please consider sharing it with your friends and your team.