Watson Black Ice Heated Gloves - Feature Friday
Welcome back to Feature Friday, MacMor's deep dive into the various products we carry (or those you request to hear about). This week we're looking at the Watson Black Ice heated gloves. Used as a glove or a liner inside your existing hand protection, the Black Ice makes for the perfect glove to go up against harsh Canadian Winters without compromising on safety.
In the Box
(2) Watson Black Ice heated gloves
(2) Rechargeable 7.4 2000mAh Lithium batteries
(1) Split duo charging cable
Fit
The Watson Black Ice Heated Gloves offer a comfortable fit due to its form-fitting Lycra/Spandex back. The palms feature a silicone honeycomb pattern for better grip, make the gloves ideal for daily use. Furthermore, users can easily use their smartphones or other electronic devices using the touchscreen compatible fingertips on the glove's thumb and index finger, eliminating the need to remove your gloves and risk losing heat.
To secure the gloves tightly, the cuff features a velcro seal that is durable while remaining stretchy. This ensures a close fit which helps keep the heating coils close to the skin. As mentioned earlier, one of the key features of this glove is its ability to function as a lightweight fall-winter glove on its own, but also as a liner inside an application-specific glove.
Like most heated products, choosing the right size can be a bit tricky. As a rule of thumb, users will get better results with a size that fits snug to the hand. This is especially important when worn as a heated liner inside of another glove. Within the scope of Industrial Safety, the Black Ice heated glove offers an enticing solution for staying warm in the winter while maintaining the protection of rated hand protection (i.e. gloves that protect against cuts, chemicals, burns, and more).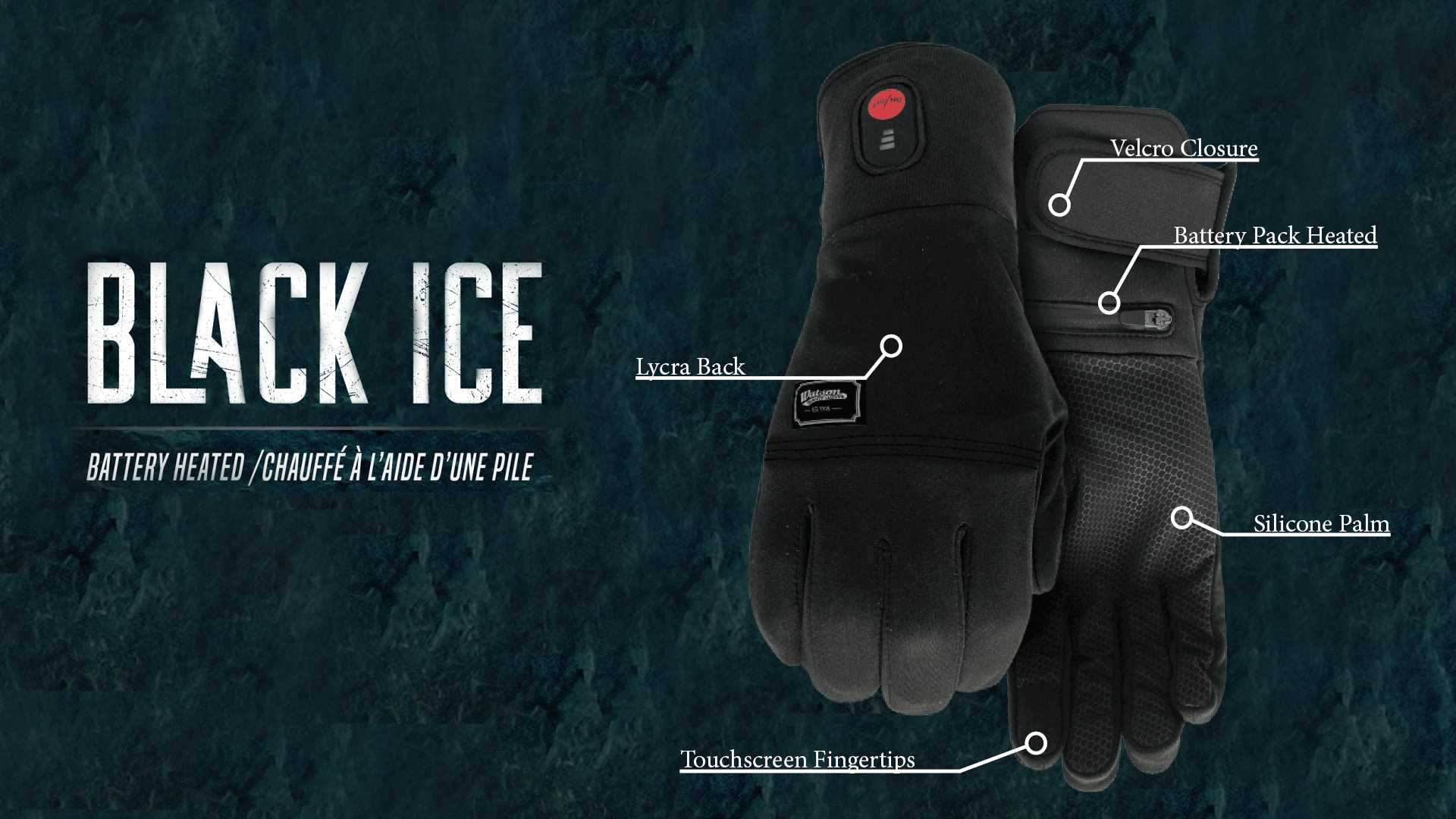 Heating Settings
The Watson Black Ice offer a simple, intuitive design that makes it easy for almost anyone to use. As previously mentioned, each glove comes with its own dedicated battery and a charger with a split connection allowing both batteries to be charged at once.
The heating zones on these gloves cover the back of the hand and line the exterior of each finger. These gloves offer 3 heat settings for a variety of conditions:

Contact Us
If you are interested in outfitting yourself or your crew with heated clothing, MacMor Industries has a variety of options. Contact Us, or reach out to your sales rep and we will be more than happy to get you setup with the best gear.