What you need to know about Puncture Resistant Gloves - Feature Friday
Welcome back to Feature Friday! This week we're shining light on a topic that doesn't get enough attention: Puncture Resistant Hand Protection. While there are a few good options in the market for puncture protection, you might notice that many manufacturers will primarily market their gloves as being "cut resistant" even when they do feature some puncture resistance ratings.
Luckily, more and more manufacturers are beginning to make specialized gloves for puncture protection, and we highlight a couple pairs in this week's Feature Friday video.
EN 388: 2016 & ANSI/ISEA 105: 2016
When talking about puncture protection, there are 2 recognized standards: the North American ANSI/ISEA 105 Standard, and the European EN 388 Standard. While both are recognized and valid standards, most of North America looks to ANSI/ISEA as the gold standard with EN 388 playing a supporting role.
Regarding testing methods, both standards utilize the same machine and stylus. The tested fabric is clamped and pressed by the stylus, and the amount of force needed to puncture the material is recorded and averaged to determine the rating. Where the standards do differ is in the way they assess the scores in the upper range of "Newtons to Puncture".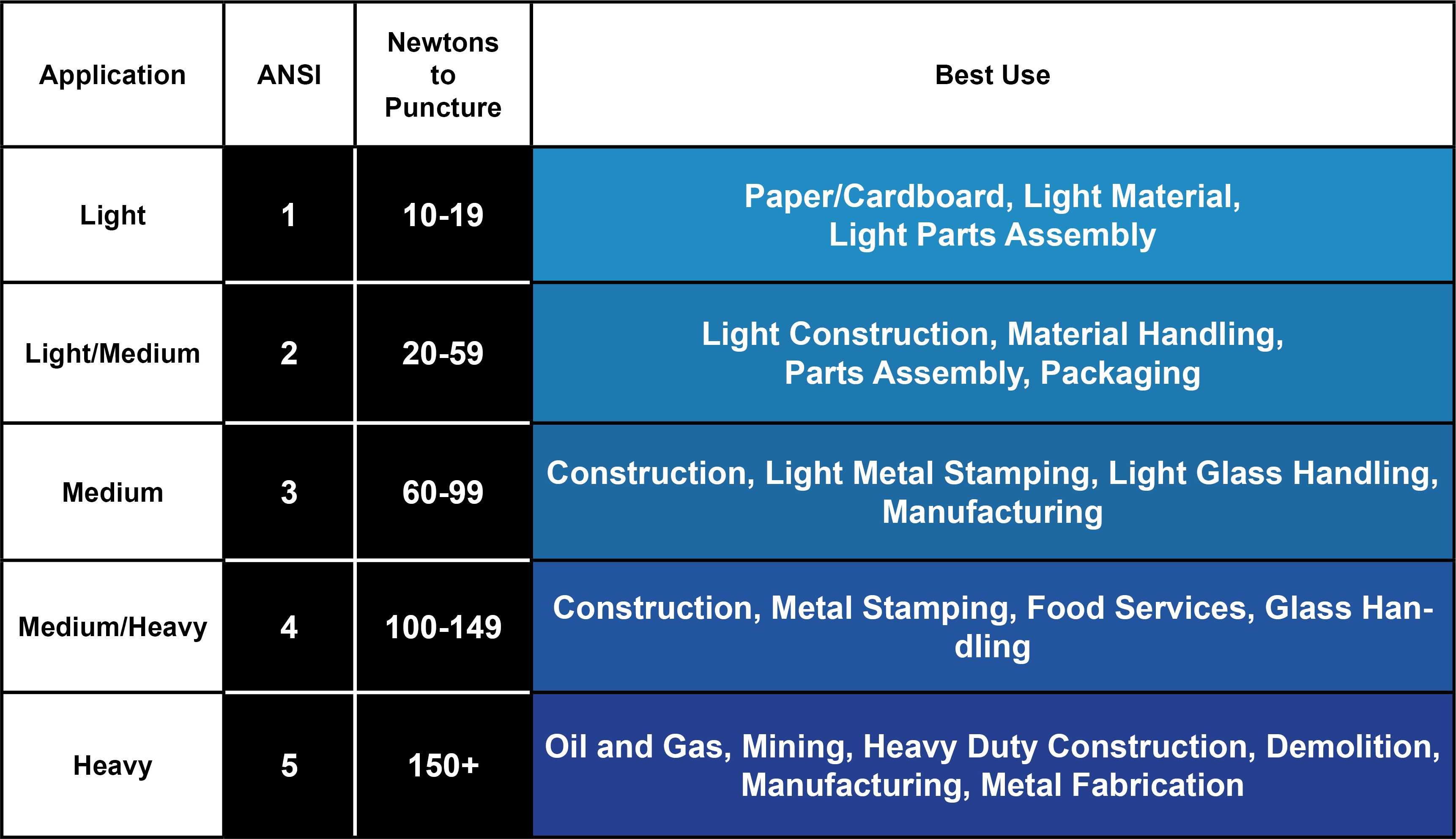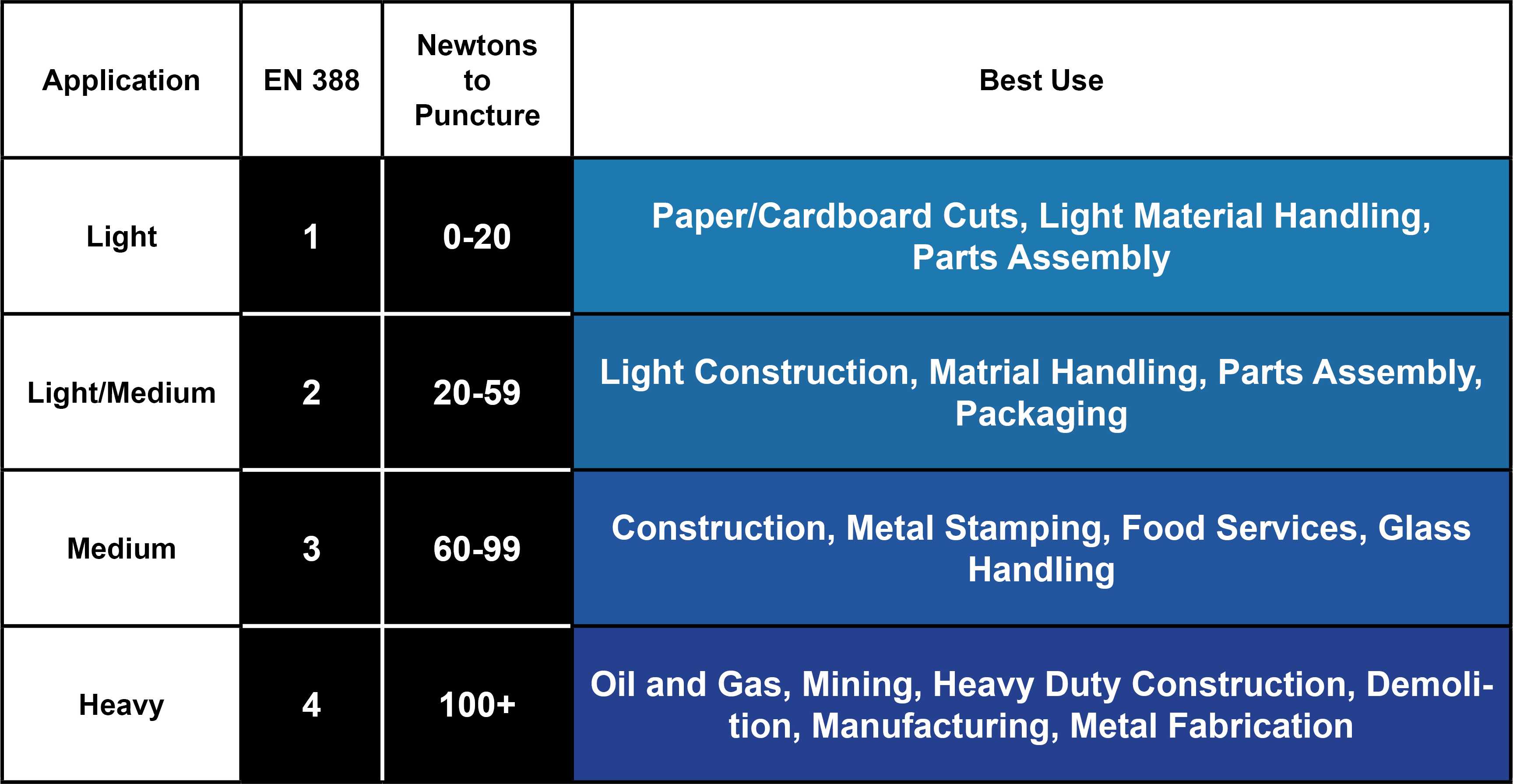 ASTM F2878 Needle Stick Puncture Test
With an increase in hypodermic needles found in public spaces over the last 10 years, a new standard has emerged to protect workers (especially first responders) against hand injuries from such needles. The ASTM F2878 Needle Stick Puncture Test is not a rating typically found stamped on gloves as most manufacturers tend to emphasize ANSI or EN 388 which is based on blunt object puncture resistance.
ASTM uses a similar testing method as ANSI and EN 388 but uses a 25-Gauge needle instead of a blunt stylus. Rating levels are given based on an average score of multiple samples tested.
Although you likely won't see this rating anywhere on the gloves themselves, information about ASTM F2878 testing can often be found on spec sheets, additional tagging/packaging, online product listing pages, or by contacting the manufacturer directly. If you believe there is a genuine risk of fine needle puncture injuries on the job, it is important to check your gloves' ASTM F2878 rating independently of its ANSI or EN 388 rating.

Puncture Resistant Materials
When evaluating puncture resistant hand protection, common materials found in the market have pros and cons that also need to be considered. As a Purchaser or Safety Manager, you'll want to evaluate a glove's puncture rating in conjunction with other important variables such as comfort, dexterity, cleanliness/sterility, cost, and in some cases whether or not the glove provides additional needed protection (i.e. impact, chemical, etc.).
1. Leather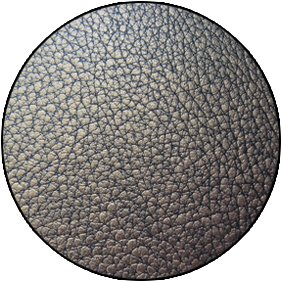 Leather is a common material used in glove manufacturing and happens to be a great choice for blunt puncture resistance. That said, it does not fare well against hypodermic needles. Furthermore, not all leather gloves are made equal - you might find some pairs to be uncomfortable, bulky, and not really dextrous.
2. Metal Mesh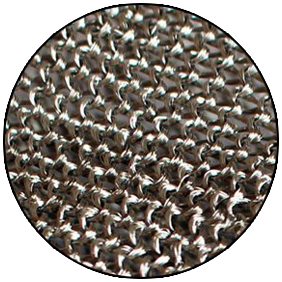 While good for both fine and blunt puncture resistance when layered, metal mesh does have a few challenges that can be difficult to overcome. Over time, the material breaks down and offers less effective protection which often leads to the question: when should they be taken out of service and replaced? Furthermore, Metal Mesh gloves are not the most comfortable to wear and are typically expensive.
3. Woven Kevlar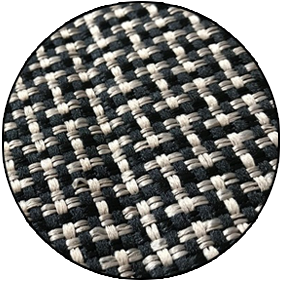 By far the most popular material used in the industry, Woven Kevlar provides great puncture and cut resistance. Much like leather, not all Kevlar is made equally as different weave patterns offer different kinds of protection. As previously mentioned, glove manufacturers tend to leave the ASTM F2878 score off of the glove and favor the ANSI 105 Puncture score. Therefore, if you or your crew are dealing with hypodermic needles, it is essential to look for additional information about a glove's fine needle rating.
4. Epoxy Plates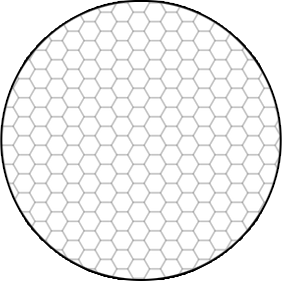 Often hidden under patented names, Epoxy Plates are an excellent way to offer high levels of cut and puncture protection. By overlapping multiple plates, this material creates a multi-layered defense against puncture threats both fine and blunt. However, layering this material to get the desired protection can result in bulky gloves.
Contact Us
If you or your organization need any information on puncture resistant hand protection, or any personal protective equipment for that matter, please don't hesitate to contact us. Our sales team would be more than happy to assist you in getting the right gear for your team.