TERRA™ Quilted Freezer Jacket
Welcome back to Feature Friday, MacMor Industries' video and blog series where we discuss products and services related to industry, answer questions that are frequently asked by our customers and provide insight on the latest safety standards and best practices.
This week, we are exploring the TERRA™ Quilted Freezer Jacket, a versatile article of clothing that can be worn comfortably in various work environments, both indoors and outdoors.
Built for Comfort
The 150-deniers Oxford Polyester shell offers a sleek and easy-to-maintain waterproof exterior while the diamond quilting ensures even distribution of the 3.5 oz polyester insulation. This jacket strikes the right balance between warmth and breathability, ensuring that you stay comfortable in a wide range of temperatures (approximately -10°C up to 15°C).
The knit gusset at the back of the shoulders allows for a full range of motion and flexibility, making it perfect for people who are active on the job (lifting, reaching, etc.) and are looking for a convenient top layer. This feature makes the jacket ideal for long-haul and courier drivers alike, allowing them to move and shift positions comfortably while behind the wheel or when managing their cargo. It's also the perfect garment for those who work in cold storage facilities or warehousing where they frequently perform a variety of tasks that require unrestricted movement.
The TERRA™ freezer jacket also features a storm flap inside the front centre zipper which provides an extra layer of protection against the elements. Additionally, the black knit cuffs and hem provide a snug feeling on the arms, while the stand-up collar with fleece lining keeps your neck warm and cozy.
Of course, the garment wouldn't be complete without its extended coat tail which serves several functions. First, it helps to shield the lower half of the body from wind, rain, and snow. Second, it can provide some additional comfort when sitting down as it provides an additional contact barrier between the wearer and cold surfaces. Lastly, the extended coat tail improves its overall appearance by creating a more form-fitting look in comparison to other jackets that cut off at the waist.
Logoed Clothing
One of the great things about TERRA™ products is their first party logoed clothing program. This product, and most other TERRA™ personal protective equipment (PPE), can either be embroidered, silk-screened and/or embossed directly through the manufacturer, and we can set this all up at the time of purchase.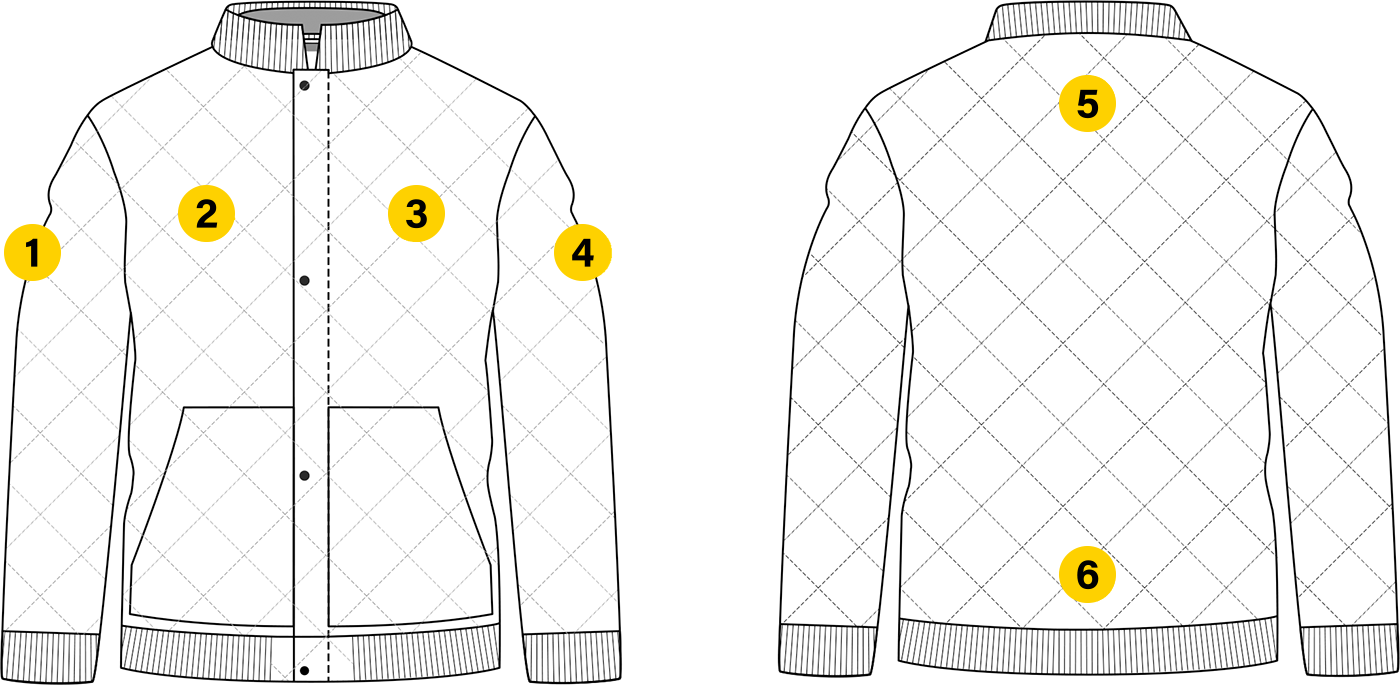 We also work with trusted third-party shops to offer these services and some manufacturers offer custom branding options when purchasing select products as well.
Branding safety apparel with corporate logos or names can provide numerous benefits for companies. The primary benefit is that it can help promote your company and increase your brand awareness. This can be particularly effective if the gear is visible to the public, such as on a construction site or in a factory. Additionally, branding your apparel can help to create a sense of unity and teamwork among employees who are wearing it, fostering a sense of pride and camaraderie amongst workers, which can often improve morale and productivity.
For more information on our logoed clothing program, feel free to check out this blog post or contact your MacMor sales representative to get in touch with us directly.
Sizing Chart

Contact Us
MacMor Industries specializes in protective clothing for a range of industries and applications, including but not limited to Traffic Wear, FR Clothing, Insulated Clothing, and much more. We are dedicated to supplying high-quality, durable garments that keep workers safe and comfortable on the job.
If you need protective clothing for yourself or your staff, please don't hesitate to contact us today; our team of experts will be happy to help you find the right garment to suit your needs.
Like the Blog and Video? Please consider sharing it with your friends and your team.